A collection of 11 short poetic psycho-geographic portraits of cities and spaces from artist Dominique Gonzelez-Foerster, who's cinematic 2007 solo show at Musée dArt moderne de la Ville de Paris http://www.e-flux.com/shows/view/4008 will be supplemented in 2008 by the Unilever commission for the Turbine Hall of London's Tate Modern (joining Carsten Holler's slides, Olafur Eliason's sun, and Doris Salcedo's crack amongst many other prestigious past projects).



Ranging from the revisiting of a scene of Ming-Liang Tsai's 'Vive l'Amour' through the eyes of its protagonist, to a ticker-tape parade in Buenos Aires, from a reflection on the filmic qualities of Brasilia,to an observation of the observers of the 1999 eclipse in Paris. All soundtracked by a sensitive balance of field-recordings and carefully chosen delicate music.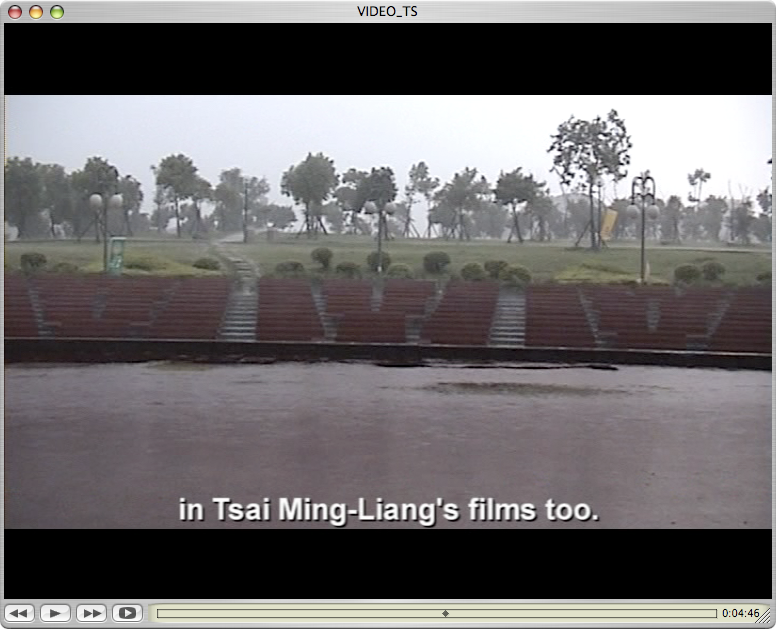 A review of the work Riyo, included on DVD here.



This collection of films from cities across the globe provides further evidence of Gonzalez-Foerster's unmistakable sense of urban ambience and tropical melancholia. In a conversation between the artist and Jacques Ranciere published in Art Press, the philosopher, reflecting on the dialogue between East and West in her work, observes, "What is interesting is what they over there have done with what they borrowed from us here. You don't get that here, maybe because we have the idea that there are no more journeys left." That may be the case, but after seeing Gonzalez-Foerster's films I want to go places: Rio de Janeiro, Brasilia, Taipei, and of course Japan, though I'm not sure if her Japan really exists or whether it's a semiotic fantasy after Roland Barthes.
- Daniel Birnbaum, Artforum, 2006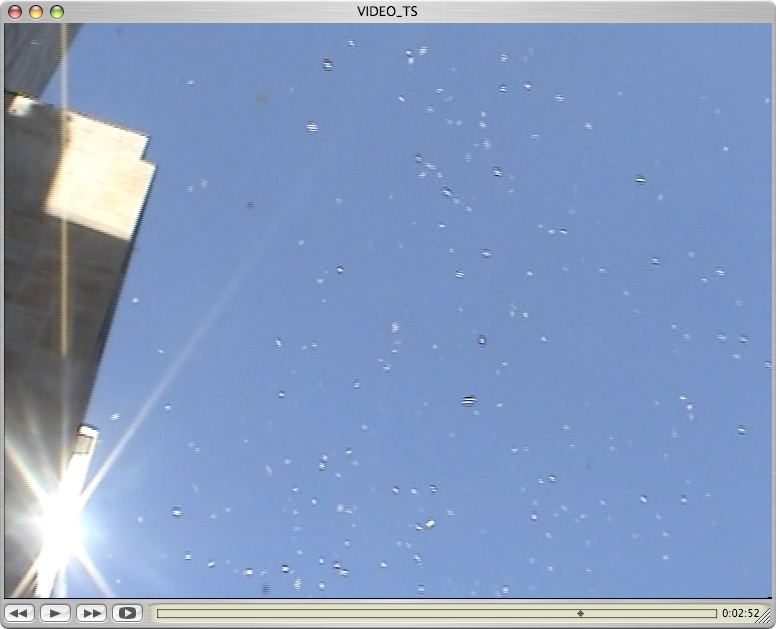 "Parc Central" est composé de 11 films qui offrent un voyage visuel, sonore et poétique à travers 11 villes traversées par l'artiste. Fascinée par la ville, l'espace et l'urbanisme, Dominique Gonzalez-Foerster développe depuis plusieurs années le concept de "modernité tropicale", à partir de la cohabitation et de la confrontation entre architecture et végétation. C'est autour de cette recherche qu'elle a conçue "Parc Central"
- MK2 DVD description

Available at KaraGarga.

at 7:42 PM